Yesterday saw Adobe announce several updates to its Creative Cloud apps, including Premiere Pro, After Effects, Character Animator, and Audition. This is all for the lead up to the NAB Show which kicks off tomorrow in Las Vegas.
Key themes are as follows:
Better integration between Premiere Pro
After Effects Audition one of the main apps to receive major updates
More powerful Dynamic Link collaborative tools to make group projects easier
Premiere Pro is gaining a new Essential Graphics Panel, allowing users to add titles and motion graphics to videos using controls similar to those found in Photoshop and Illustrator. Included in the Essential Graphics Panel is a Type tool for adding text, which offers customization options for font, size, colour, and blending mode. Clip Layers and Shape Layers for adding, video graphics and images are included and designs can be saved as Motion Graphic templates to be added to future projects.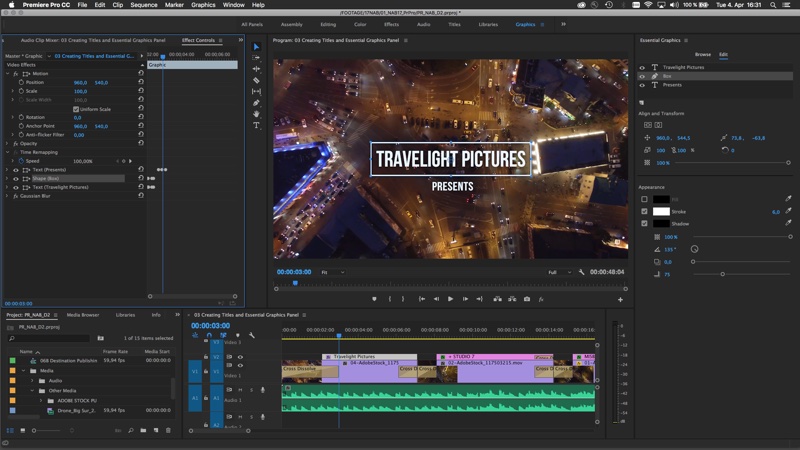 In After Effects, Motion Graphic templates can also be created in After Effects and accessed and edited in Premiere Pro thanks to new integrations between the two apps. A powerful audio editing experience can now be accessible in Premiere Pro thanks to Audition's Essential Sound panel. Users can use this without having to leave the Premiere Pro app.
The panel allows users assign mix types to clips, with built-in tools for each type of content - dialogue, music, and sound effects. For 2016 MacBook Pro owners, Adobe is introducing support for the Touch Bar, providing options for touch-based video editing.
Essential Graphics panel will also be added to Adobe After Effects CC, which allows creation of Motion Graphics templates for Premiere Pro, and Adobe is introducing a new Camera Shake Deblur feature. Camera Shake Deblur is designed to cut down on unwanted motion blur artefacts and according to Adobe, it's able to salvage otherwise unusable shots when combined with the Warp Stabilizer VFX. It analyses frames on either side of the blurry frame and merges the sharper content with the blurry content for a crisper image.
After Effects will receive the Lumetri Scopes to make it easier for After Effects users to accurately adjust colour using Vectorscopes, Histogram, Parade, and Waveform to evaluate video, and the After Effects update introduces new GPU-accelerated effects including Fractal Noise, Levels, and Fast Box Blur. Walk Cycles will be added to Adobe Character Animator CC which will users to create instant walking animations by tagging a character's legs, arms, and body. Walk Cycles includes features like walk, run, and sneak, plus it can automatically adapt to step speeds and leg length.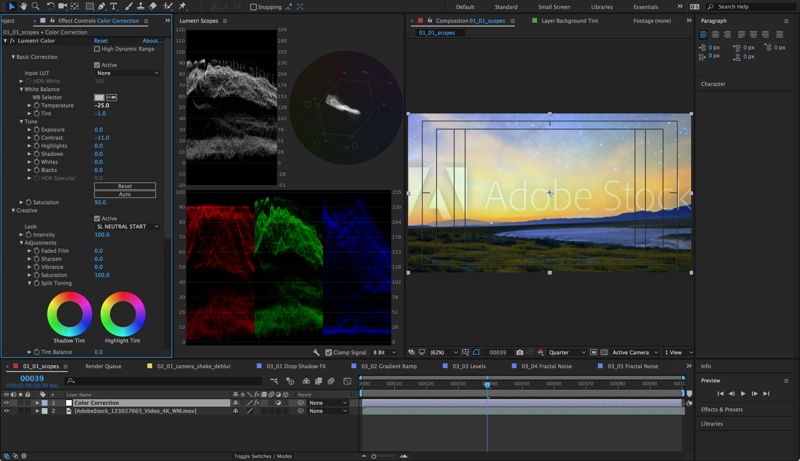 Also available is mouth shape editing and pre-recorded audio, also there is a new Workspaces feature for streamlining the animation process, and Character Animator now supports live streaming through Facebook and YouTube.
In Audition there will be deeper integration with Premiere Pro, being introduced by Adobe is multichannel audio workflows, Presonus Faderport controller support, updated effects, and a visual shortcut editor to make it easier to find and create custom keyboard shortcuts.
And finally, Adobe is adding new features to Adobe Stock. Video editors will now be able to earn royalties for their work as they can now submit content directly to Adobe Stock. All of Adobe's Creative Cloud updates have now started.
Adobe's Creative Cloud plans, which cover the complete range of Adobe CC software, start at $49.99.
Work on Adobe? Take a look at our Adobe editing products here